How does QwikCut's pricing stack up against Hudl?
A Better Platform for Coaches
A Better Price for Your Program

*Includes Playbook Tools        **Compared to Platinum Package Pricing with Playbook Tools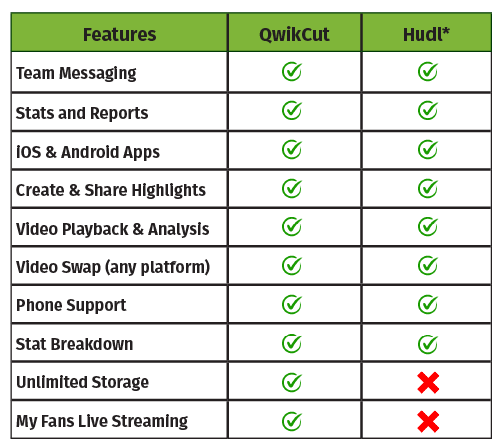 I have been fortunate to have discovered Todd from QwikCut and my experience with their service has been nothing short of excellent. The quality of the videography and the technology they offer has provided us with the right tools to analyze our rugby game play. We are so excited to also see the new screen stats feature in their display giving coaches and viewers a thorough understanding of player performance. We strongly encourage any sports organization and coaches to use their services, they're affordable and efficient.
Qwikcut provides us with everything we need film-wise. We have been using them for 5 years and they cover every game no matter where we are in the state. Lacrosse is not an easy sport to shoot well, Qwikcut does an excellent job. Their turnaround on uploads is always prompt, with footage available online the next day. I would recommend Qwikcut to anyone in need of video services.
I have been using Qwikcut's video services for the last 10 years. I have used them for football and wrestling. They have never missed a game or match even with last minute changes. Our coaches and athletes love the new platform. It is much easier to use but still has all of the functionality we need to help our kids get better. Their Scheduling App, mobile App, and online video editor are the best in the market and the most economical. I would highly recommend their live uploading service. Its better than streaming and has helped us put money back into our program.
Fill out the form below and we'll get back to you as soon as possible!